---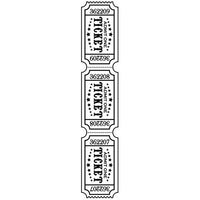 TICKET STRIP - 12" BORDER - EMBOSsING FoLDeR - A2 by Darice -Retired Item ! Hard to Find ! Movie Tickets
DARICE
A brand new DARICE Embossing FOlder that is...limited edition RETIRED AND RARE !!!
You get a very cute design of a strip of 3 tickets that is 12" x 2 1/2" wide - EACH TICKET IS 4" wide !!
DARICE Embossing Folders are for use with the CUTTLEBUG, Texture Boutique, BIGkick, Big Shot and Vagabond machines (used with a pair of Cutting Pads and the machine's included Platform). may also fit other brands.
THey are brand new in pkg.
Retails in most stores for $9.99 or more - my discount price is great !
Much sought after set, is in limited supply now - VERY POPULAR-
All DARICE EMbossing folders will work in the CUTTLEBUG, VAGABOND, SIZZIX and most other brands of manual embossing machines.
In stock and shipping TODAY !
CANADA : SHipping listed is First CLass Mail - no insurance. If we combine more items and ship by Priority Mail we can get insurance in some cases....let me know if you need mutliple items combined and I will design a new invoice for you !
INTERNATIONAL SHIPPING: varies by your location and choice of shipping method. I will ship by First CLass Mail or Priority Mail, depending upon your choice, so please message me for a quote.
Thank you for looking at my Etsy store !