---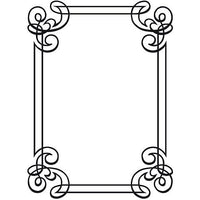 CORNER SCROLLs - ORNATE FRAME EMBOSSiNG Folder - A2 - Makes Cute Cards ! Darice -NeW and Hard to Find 1219-102
DARICE
A brand new DARICE Embossing FOlder that is very hard to find in stores...
Darice® Embossing Essentials 4.25 x 5.75 inch Embossing Folder -
Darice® Embossing Folder - Ornate Frame - 4.5 x 5.75
Item #: 1218-31
★★★★★
4.25 x 5.75 inch Darice® Embossing Essentials embossing folder with an all over print background design. These value-priced embossing folders are perfect for all of your paper crafting, card making and scrapbooking projects and can be used in a variety of popular embossing machines--including the Cuttlebug and the Sizzix. 1 piece per package.
Embossing folders are used with embossing machines to create dimensional borders, backgrounds, frames and more.Cuttlebug and the Sizzix. 1 piece per package.
All DARICE EMbossing folders will work in the CUTTLEBUG, VAGABOND, SIZZIX and most other brands of manual embossing machines.
In stock and shipping TODAY !
CANADA : SHipping listed is First CLass Mail - no insurance. If we combine more items and ship by Priority Mail we can get insurance in some cases....let me know if you need mutliple items combined and I will design a new invoice for you !
INTERNATIONAL SHIPPING: varies by your location and choice of shipping method. I will ship by First CLass Mail or Priority Mail, depending upon your choice, so please message me for a quote.