---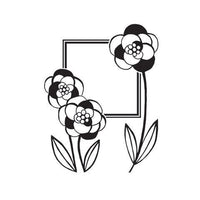 FLOWERs In A SQUARE - EMBOSsING FoLDeR - A2 - Darice Very Beautiful for Card Making !! 2020 New !!
DARICE
A brand new DARICE Embossing FOlder that is very hard to find in stores..
Embossing Folder: Three Flowers Square, 4.25 x 5.75 inches
Item #: 30041352
★★★★★
Three Flowers Square, 4.25 x 5.75 inches
Create a cute frame with ease by using this square three flowers embossing folder. Designed to work with most machines, this 4.25" wide by 5.75" high tool lets you imprint cardstock destined for paper crafts like cards and scrapbook pages..
DARICE Embossing Folders are for use with the CUTTLEBUG, Texture Boutique, BIGkick, Big Shot and Vagabond machines only (used with a pair of Cutting Pads and the machine's included Platform).
All DARICE EMbossing folders will work in the CUTTLEBUG, VAGABOND, SIZZIX and most other brands of manual embossing machines.
In stock and shipping TODAY !


CANADA : SHipping listed is First CLass Mail - no insurance. If we combine more items and ship by Priority Mail we can get insurance in some cases....let me know if you need mutliple items combined and I will design a new invoice for you !
INTERNATIONAL SHIPPING: varies by your location and choice of shipping method. I will ship by First CLass Mail or Priority Mail, depending upon your choice, so please message me for a quote.
Thank you for looking at my Etsy store !